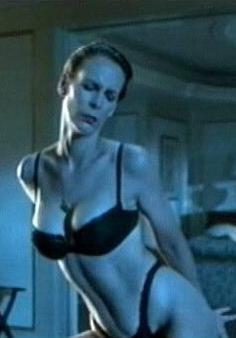 Current
polled readers on the sexiest cinematic
stripteases
. Jamie Lee Curtis' twirl in
True Lies
came in first. The top ten teases:
1. Jamie Lee Curtis in
True Lies
2. Kim Basinger in
9½ Weeks
3. Salma Hayek in
From Dusk Till Dawn
4. Elisha Cuthbert in
The Girl Next Door
5. Natalie Portman in
Closer
6. Demi Moore in
Striptease
7. Rebecca Romijn in
Femme Fatale
8. Jessica Alba in
Sin City
9. Lindsay Lohan, Rachel McAdams, Lacey Chabert and Amanda Seyfried in
Mean Girls
10. Mia Kirshner in
Exotica
I can't believe
Littel Miss Sunshine
didn't make the
cut
.
Hundreds of photos from
Buffalo's burlesque heyday
went on display at the George Eastman House in Rochester, uncovering many of the performers from the 1950's and 1960's at Buffalo's Palace Theatre.
Hear
more about it.
Joey Bishop, a comedian who got his start in burlesque,
died
.
The NY Press
says
Margaret Cho's
The Sensuous Woman
"is worth every hoot and catcall, not only for her zinger-filled standup, but for the freewheeling sexual demagoguery of the whole enterprise."