Carmen Elektra's Fashion Week
performance
for underwear company 2xist got me thinking about burlesque props. It's clear from the
Candy Gram
interviews that pasties, g-strings, rhinestones and glitter are essential. But what about some of the other props? What are your favorites? The most unique? Hardest to travel with? Here are a few of my favorites.
Carmen Elektra inspires hoop dreams.
Lili St. Cyr
performed in a giant champagne glass. Now
Dita Von Teese
, who often cites Lili as inspiration, says cheers to the routine. For those of you with bubble-licious dreams of your own, Jo Boobs did a great
piece
on where to get a life-size champagne glass.
Both Lili and Dita also like to bathe on stage. Lili said she stored bath tubs around the country. How does Dita get her tubs?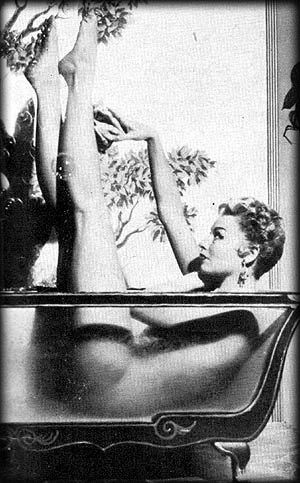 Immodesty Blaize
uses a giant rocking horse.
And fans are, well, fantastic.