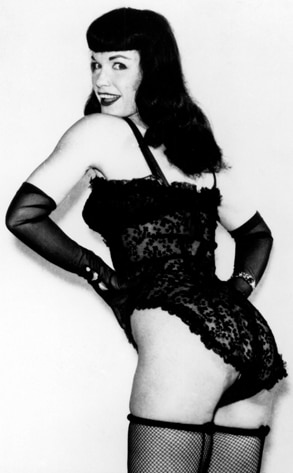 The tributes to
Bettie Page
continue. MTV points out all of the
celebrities
who were influenced by Page's style.
Dita Von Teese
shares a
story
about her encounter with Page. PopMatters
calls
Page "the new frontier." And the
New York Times
offers up an
appraisal
of Page's place in our sexualized world:
"To look at these photographs is to enter another world. I don't think for a minute it was a more innocent world, but it was one in which sexualized images of women, even trussed up in rope, seemed somehow, well, charming. I'm sure there are plenty of women and some men who would disagree, saying that one generation's erotica is another's pornographic exploitation. But the sheer volume of images that wash over us now have blunted our sensibilities, I think, and made us less alive to the beauty, the poetry and the mysteries of the naked body."
In other news ...
The Montreal Mirror
recommends
Gilded Lili
in their
Holiday Gift Guide
.
Yule-A-Go-Go
shimmies
onto the CW.
Jessica Biel
stars as a
stripper
in
Powder Blue
.
A Murray Little Christmas
puts a
ribald
spin on the holidays.
Gypsy
to
shutter
in January as a result of the faltering economy.