A friend sent me this illustration by Australian artist
Ross Radiation
, which he
explains
was based on a
Lili St. Cyr
pose. The illustration seems harsher than most pictures I've seen of Lili. And, considering the title of the drawing is "Madame Morbid", perhaps that was the intent.
The drawing is based on a photo which was shot by
Irving Klaw
, the man famous for his bondage shots of
Bettie Page
. He took the stills when Lili visited his New York studio to film a burlesque short. Lili hated the pictures. She never made any money from their sale and she disliked the quality.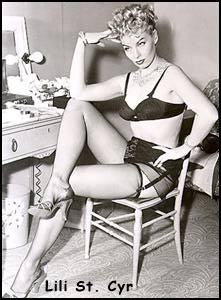 "Every time I see those pictures, I have a fit because they're not good pictures," she told Eric Schaefer, author of
Bold! Daring! Shocking! True!: A History of Exploitation Films
. "I was used to working . . . with wonderful photographers like [Bruno] Bernard. Bernard and I spent hours working on our pictures, spending all this time and making such a fuss over them. And then having these pictures from Irving Klaw show up . . . It made me angry every time I looked at them."